Skellig Michael and Small Skellig can be seen at numerous viewing points along the coast, they suddenly appear as you turn a corner like 2 mountain peaks on the horizon. A visit to Valentia Island would not be complete without taking a boat trip to the Skelligs.
Skellig Michael the larger of the two is a world heritage site as it has the finest example of an early Christian monastic settlement, dating back to the6th and 7th century, the enclosure consists of six bee-hive huts of morterless stone construction, two oratories and a church, it has twin peaks rising 220 metres and 200 metres out of the Atlantic.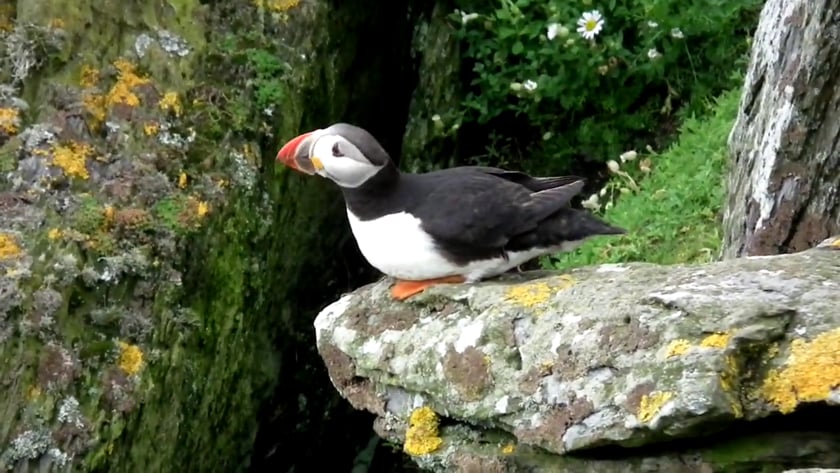 Skellig Michael is also famous for the puffins who come to nest there from May to August (see photograph) truly amazing. The small skelligs is home to thousands of sea birds at least 20,000 gannet also shearwater, guillemots, fulmers, also grey seals.
The Skellig Rocks are located of the Iveragh peninsula in South-West Kerry. They are close to Bolus Head about 12km South of Valentia Island in Ballinskeillig bay. The rocks are made up of 2 main islands – Great Skellig or Skellig Mhíchíl and Little Skellig. Skellig Michael has an area of about 44 acres.
The meaning of the word Skellig is "splinter of a stone". Different variations of the name can be found throughout the country, There are settlements with a similar archeological backround found in Brittany, France – Mont Saint Michel and St.Michaels Mount, a pyramid shaped rock in Cornwall.
A lighthouse was developed in the 1820′s and was completed in 1826. The island is reachable by ferry from Portmagee, Valentia, and is an extroadinary part of Irish history and beauty.
"Jim and Mary are truly amazing hosts.
Guest rooms and bathrooms are very clean. Breakfast was delicious- hot and hearty for my husband and fruit and yogurt for me. Breakfast room all windows and looking out over to beautiful Portmagee. Would definitely return to this little gem!"
"A million thanks to Mary and Jim for the marvelous accommodation and excellent food. We felt so at home in this gorgeous home surrounded by the best views."
We stayed 5 nights at this charming bed and breakfast. It is sparkling clean with a wonderful breakfast included. The hosts, Jim and Mary, could not have been more warm and friendly. "